With our newly upgraded system, you get the best results possible.
We invested in the new, top of the line SSI Dual Track Profiling System so we can bring our clients the most reliable results possible. 
SSI's performance has been proven by worldwide compliance with agency specifications and test methods. SSI inertial profilers are Class I profiling devices under ASTM E950 at all collections speeds from 5 mph to over 100 mph (8-160 kph; 0-100 mph for Zero-Speed systems). SSI's systems not only comply with, but are guaranteed to meet or exceed applicable specifications and certification requirements worldwide. This includes US Federal and State DOT, Ministries of Transportation, ASTM and AASHTO (M328, R054, R056-R057) and World Bank standards.
With features like IRI, MRI, HRI, PRI, and RN indexes, we can proudly provide accurate results across all platforms. Real time display of position, profile, speed & more allow our fully trained technicians to view adjustable templates for localized roughness as it is happening. Profile data is saved to SSI's proprietary format which compresses the sensor data into a size that is easily transferred. The data can be exported into multiple formats including PPF and ERD (fully compatible with ProVal), PDF, Excel, and GIS shapefiles. 
For surfaces with high voids or texture, wide beam lasers are recommended or required. They were developed to minimize the artificial impact of single point lasers on concrete or other pavement finishes with significant texture attributes, such as longitudinal tines or grooves from diamond grinding. This allows the laser to collect measurements at an average height over a 4 inch (100 mm) or larger lateral line, as compared to spot lasers that sample using a beam no wider than about 0.25" (6.35mm).
Dot laser sensor sampling frequency: 32KHz (32,000 samples/second)
Line laser sensor sampling frequency: 5KHz (5,000 samples/second)
Laser vertical measurement resolution is between 0.015 and 0.56-mm, depending on laser type.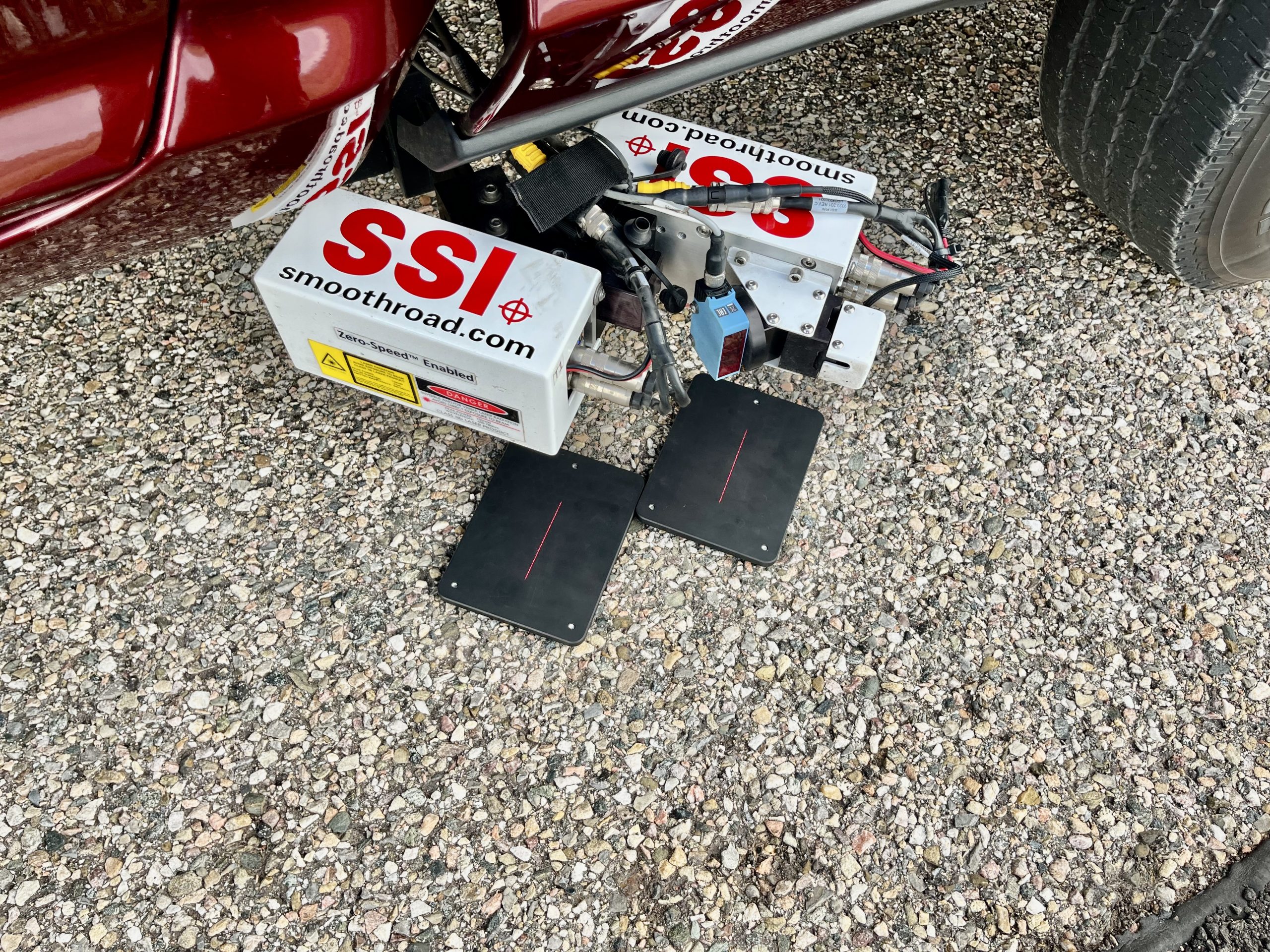 SSI's GPS system includes 5 Hz GPS receiver embedded within the profiling system electronics. The GPS readings are added to the profile data so that localized roughness and user events can be located by GPS. The GPS readings can also be used to view overhead areas of the surface in Google Earth or GPS Tagging.
With the use of an IMU, the GPS position can be "filled in" when sky-view and satellites are lost. This adds a major benefit for urban or mountain profiling and enhances the capabilities of a GPS-DMI, or INS-DMI. 
Digital camera system allows for forward facing , right of way images with the dashboard mounted HD camera paired with the integrated profiling system data.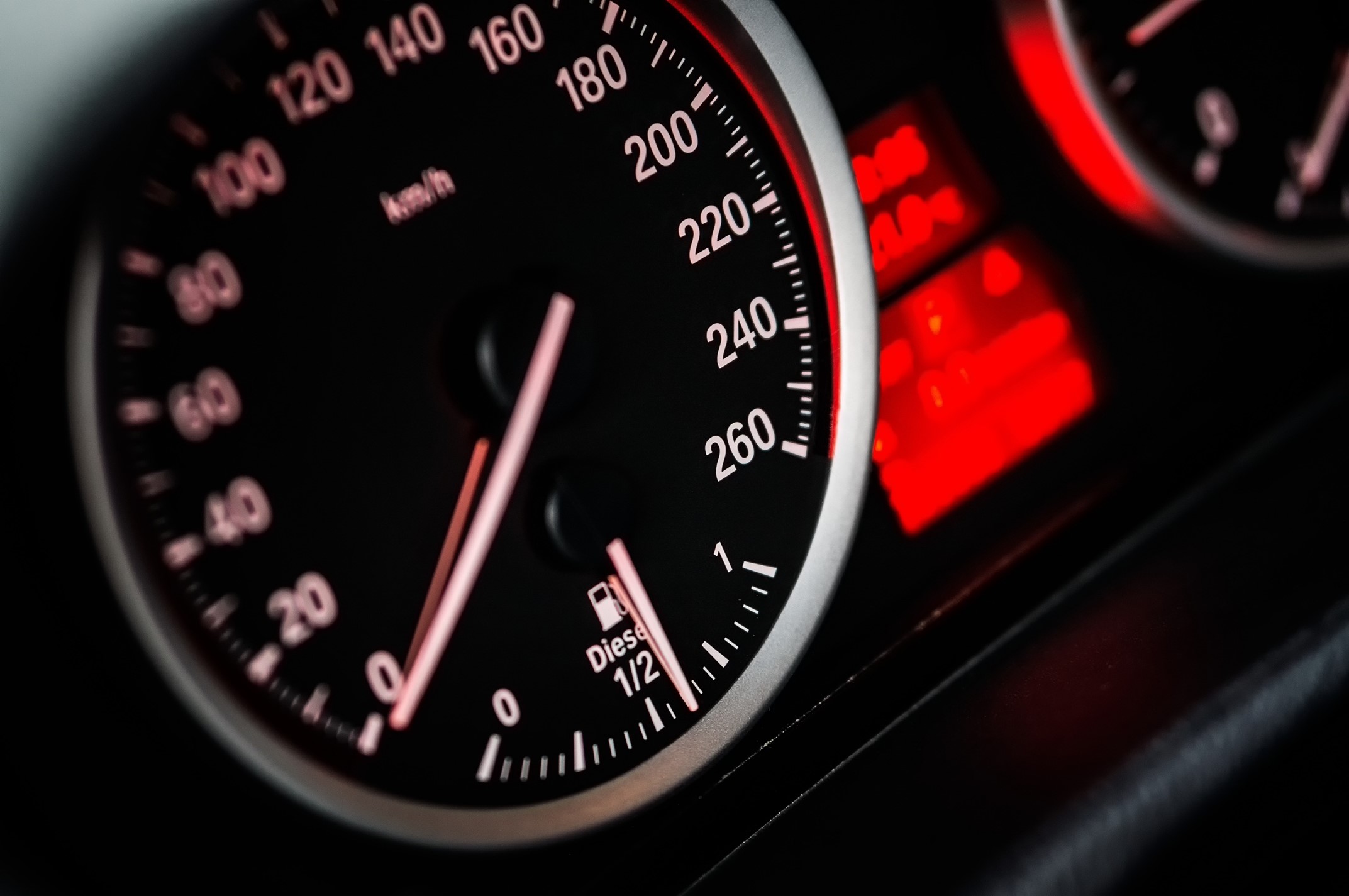 Highly enhanced zero speed system allows for reliable results
With the new option of Zero-Speed technology, this allows for data collection at speeds between 0-100 mph even through stoppages. The SSI method combines data with a high accuracy to still pass AASHTO R56 certifications through stoppages. 
New Software and Equipment allows us to bring new added features to our profiling service.
Some additional features include:
One Person Operation
"All-in-Cab" data collection, analysis and reporting system (profiling system data collection and analysis functions can be performed by one person without leaving the cab of the vehicle)
Speed Range


Zero-speed option allows collections of accurate, repeatable data throughout vehicle stoppages. Collect data at any speed from 0-100 MPH. No need for lead-in or run out sections with the zero-speed option. Systems without zero-speed option have SSI "Continuous Collection" software standard, which automatically suspends the collection when speed drops below 5 MPH and resumes collection when the vehicle resumes forward travel over 5 MPH.

Temperature                                          Operating ambient temperature range: 32° to 128° F (0-53°C); non-laser component operating temperature range: 0 to 140 F (-18-60°C).
Humidity                                                  Operational in humidity of up to 90 percent (noncondensing)
Moisture                                                     Profiling system remains operational even in the event of rain or snowfall. 
Have a recently completed job where profiling is needed? Simply submit a request and get a response from one of our highly certified Profiler Technicians. We can get the job done.